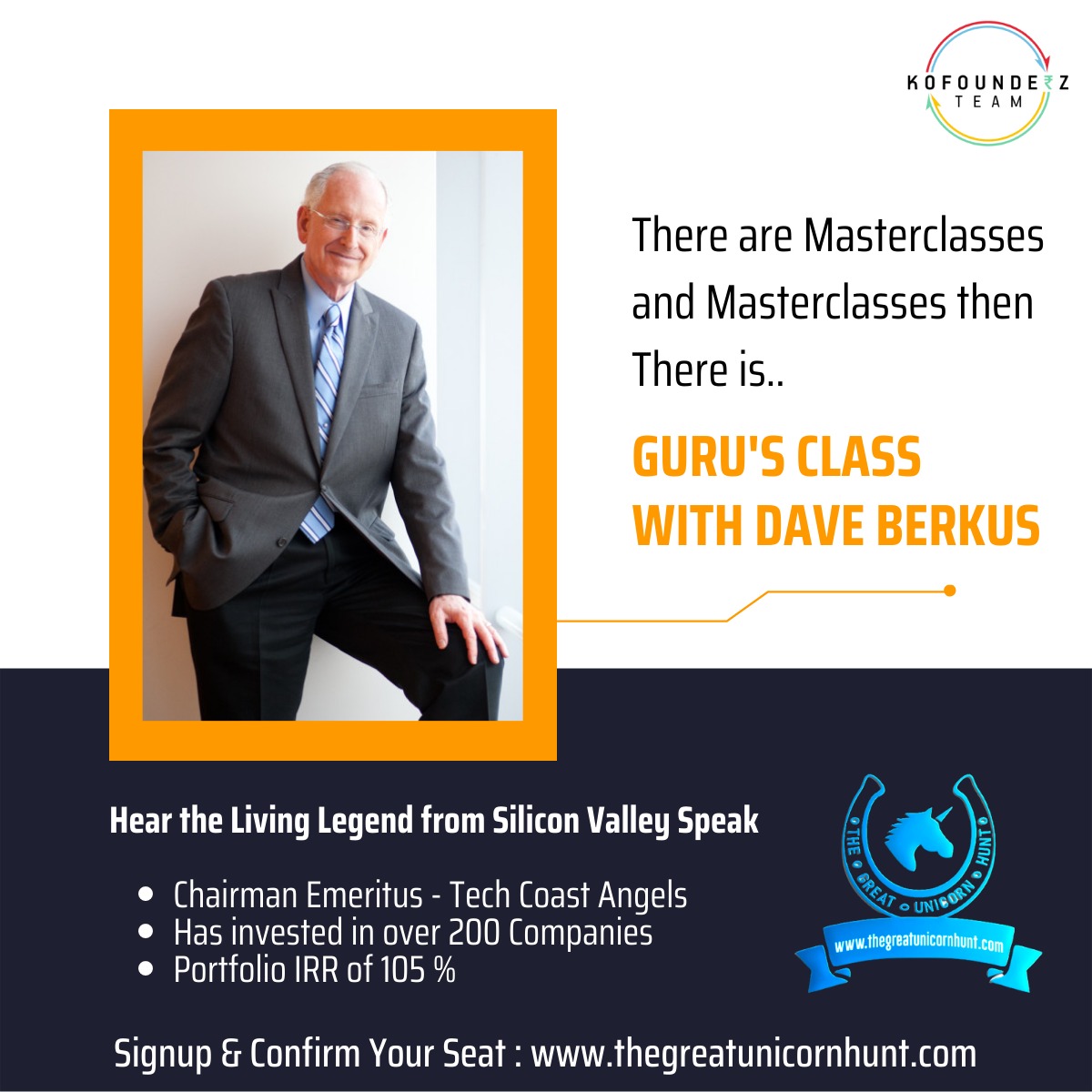 Learn from Gurus of Silicon Valley
Live Webinar Schedules:
8.30 PM IST to 9.30 PM IST
9th June 22: Governance practices and Advisory Boards that can actually help Startups Succeed
Contents:
- Roles and responsibilities Angels and Entrepreneurs serve during the course of the post-investment process
- including Board of Directors positions, observers of company operations, and advisors to company managers?
• What strategies exist for angel investors in offering mentoring, value-added services, and transitioning to leadership?
16th June 22: This way to the Exit - Preparation for and proactively adding exit value
• What methods should be explored for selecting deal exit options, preparing to exit, and executing strategies?
• What are the resources and points of leverage that board members and angel investors can add to their portfolio companies?
• What are the legal, moral and practical limits upon board and angel involvement in operations?
• Stories of early stage portfolio company CEO's gone good and CEO's gone bad
• Issues of communication and alignment between CEO's and their boards
Join the Virtual Lecture Series of Silicon Valley's living legend, Dave Berkus, one of the most eminent and prolific VC and Angel Investors from the Valley.
Dave has invested in over 200 Companies
Portfolio IRR of 105%
Has been Managing Partner or Managing Director of 6 Early Stage Funds including,
Kodiak Ventures
Berkus Technology Ventures, LLC.
Three funds managed for the Tech Coast Angels of Southern California and Wayfare Ventures, LLC.
Who Is It For : VCs, Angel Investors, Mentors, Corporates & Startup Founders.
Some Books written by Dave :
Berkus, D., & Kelly, B. (1994), Better Than Money!, Santa Barbara, CA: Synergy Press.
Berkus, D. (2006), Extending the Runway, New York, NY: Aspatore Press.
Berkus, D. (2012), Basic Berkonomics, Los Angeles, CA: Berkus Press.
Berkus, D. (2009), Berkonomics, Los Angeles, CA: Berkus Press.
Berkus, D. (2011), Advanced Berkonomics, Los Angeles, CA: Berkus Press.
Berkus, D. (2013), Small Business Success Collection: Resources for entrepreneurs, investors and corporate boards (Vols. 1–8), Los Angeles, CA: Berkus Press (resources for entrepreneurs, investors and corporate boards).
Berkus, D. (2014), Small Business Success Collection: Resources for entrepreneurs, investors and corporate boards (Vols. 1–8), (2nd Ed.), Los Angeles, CA: Berkus Press.
Berkus, D. (2014), Extending the Runway, (2nd Ed.), Los Angeles, CA: Berkus Press
Berkus, D., & Shepherd, K. (2015), Get Scrappy, Los Angeles, CA: Berkus Press
Live Webinar Schedules:
8.30 PM IST to 9.30 PM IST
26th May 22: Investor Approaches and Benefits of Early Stage Valuation
9th June 22: Governance practices and Advisory Boards that can actually help Startups Succeed
16th June 22: This way to the Exit - Preparation for and proactively adding exit value
Registration & Fees: